SPECIALIZED CLEANING FOR HEALTHCARE ENVIRONMENTS. WHEN ONLY THE BEST WILL DO.
Proper cleaning and sanitizing are crucial in healthcare environments and medical offices. These facilities need more than regular commercial cleaning services and maintenance. They need specialized healthcare cleaning, disinfecting, and sanitizing. Knowledge of the healthcare industry and its requirements are also necessary.
ServiceMaster Clean specializes in cleaning and disinfecting for the healthcare industry. As pioneers in the industry, we have and continue to create specific and innovative programs to address healthcare facilities cleaning needs. We have been providing healthcare facilities with cleaning, disinfecting, and sanitizing services since 1962. These services help maintain health and safety standards.
As our world has changed in so many ways in response to the COVID-19 pandemic, we continue to bring new and better ways to maintain cleanliness, safety and health standards for the healthcare facilities we serve with our Patient-Centered Cleaning Program.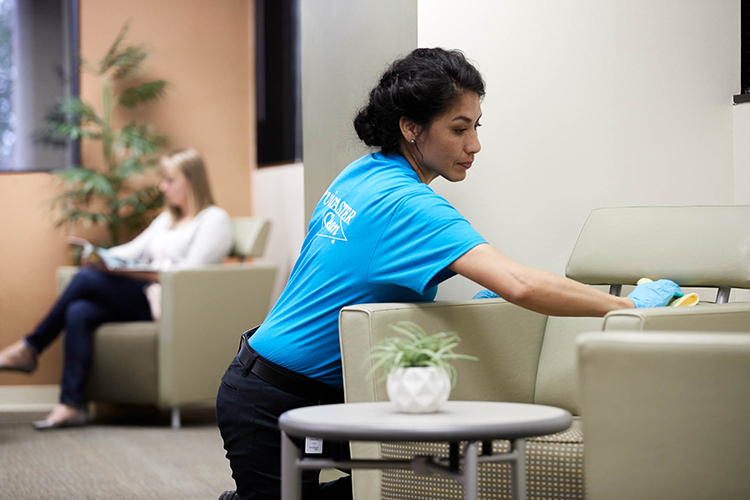 SERVICEMASTER CLEAN CONTINUES TO INNOVATE IN THE INDUSTRY
In addition to our regular janitorial cleaning services, ServiceMaster Of Calgary also provides the following specialized cleaning and disinfection services specific to healthcare and medical building cleaning:
Checking and changing privacy curtains
Thorough cleaning and sanitizing of stairs, entrances and other high-traffic areas
Meticulous cleaning and sanitizing of exam and procedure rooms
HEALTHIER CLEANING METHODS
ServiceMaster Clean can help prevent the spread of diseases in healthcare settings by using effective cleaning, disinfection, and sanitization methods.
The ServiceMaster Clean Capture and Removal Cleaning® system uses advanced equipment and microfibre technologies. These technologies help to reduce dust, VOCs, and bacteria. The main goal is to create a healthier environment for staff and patients. Our cleaning and sanitizing teams are well-trained, and our products and processes meet Health Canada's requirements and recommendations.
EXTENSIVE HEALTHCARE CLEANING TRAINING
At ServiceMaster Clean, we take pride in our proprietary training series designed specifically for healthcare cleaning. This comprehensive program equips our staff and technicians with the necessary knowledge and skills to deliver exceptional cleaning services tailored to the unique needs of healthcare facilities.
Our training series covers a wide range of topics, including the latest industry standards, best practices, and specialized techniques for cleaning, disinfecting, and sanitizing healthcare environments. We understand that healthcare facilities require a higher level of cleanliness to maintain a safe and healthy environment for patients, staff, and visitors. Therefore, our training program focuses on the specific challenges and requirements of healthcare cleaning. Our training program reflects our commitment to delivering exceptional cleaning results that meet the highest standards of quality and safety.
CLEAR COMMUNICATION + HIGHLY TRAINED STAFF
At ServiceMaster Clean, our emphasis on clear communication with customers sets us apart from other healthcare cleaning and sanitizing services companies. We ask the right questions and listen closely to your answers to deliver your requirements and standard of cleanliness, the first timeÖand every time.
Exceptional cleaning, disinfecting and sanitizing in healthcare facilities begins with having excellent staff. We recruit and hire individuals who are highly suited to working in medical care environments. We then train our cleaning and sanitizing specialists intensively on patient protocol and hold them to the highest standard of conduct.
Did You Know?
Can we contact you outside office hours in case of an emergency?
ServiceMaster Of Calgary will provide you with a live-answer, emergency phone number so that we can help you with any emergencies that may arise 24 hours a day, 365 days a year.
How do we get started with ServiceMaster Of Calgary janitorial services?
ServiceMaster Clean makes it easy to get started. Simply click here to complete our contact form or give us a call at 587-316-6685. One of our representatives will set up a time with you to review your commercial cleaning requirements and develop a customized clean program that suits your needs.
Do I have to sign a long-term contract?
A contract is not a requirement. ServiceMaster Of Calgary will develop a detailed proposal and task schedule that will both meet your needs and budget. At any time, you can make adjustments to your cleaning requirements, and your representative will then make changes as needed and advise of any pricing revisions. You may also cancel your commercial cleaning service with 30 days written notice